We Are Very Proud To Have Received a Theo Paphitis SBS Award
Posted on
The Sylverling Workshop has received a business boost from Retail Entrepreneur Theo Paphitis.
Last week, 05/01/2020, I tweeted Theo about The Sylverling Workshop during 'Small Business Sunday' and was one of six weekly winners to gain a retweet by Theo to his 500,000 Twitter followers. The weekly initiative, set up by Theo in 2010, now has over 2500 #SBS winners and supports small businesses in the UK.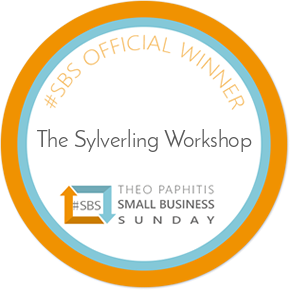 Business and retail entrepreneur and self-confessed Shopkeeper, Theo re-tweeted The Sylverling Workshop's message to his almost 500,000 followers and as a result, I've gained more followers, bespoke jewellery enquiries/orders and now have some of my jewellery for sale at my first local gallery. All this after only launching at the end of September last year! The Sylverling Workshop is also profiled on the #SBS website (www.theopaphitissbs.com) that is exclusive to all Small Business Sunday winners.
Anyone looking for a re-tweet from Theo should tweet him about their business on Sunday between 5 PM and 7.30 PM and include the hashtag #SBS. Six lucky businesses are re-tweeted every Monday at 8 PM and then invited to enter their profile on the new website, attend the annual #SBS networking event and take advantage of the networking opportunities.